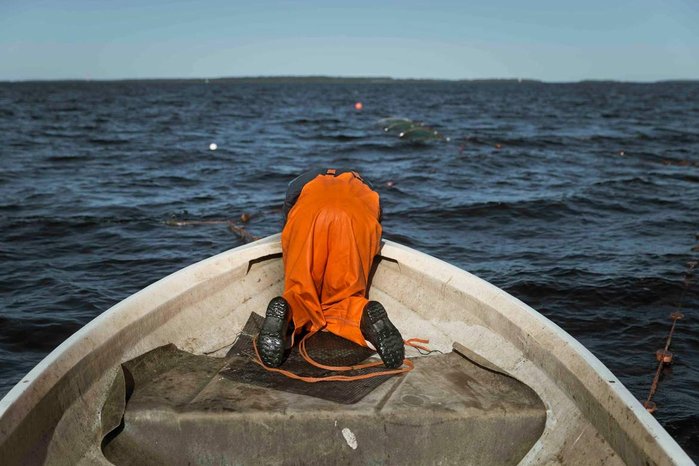 Pyynti
Suomen pyytää merkitsee yleensä kysymistä tai avunpyyntöä. Samaa sanaa käytetään myös kalastamisesta ja metsästämisestä. Kalaa pyydetään, ei siepata tai oteta, kuten monissa muissa kielissä. Metsä- tai kalamies on myös pyytäjä. Hän kysyy kalaa ja riistaa. Käsitys saaliin saamisesta vaihtosuhteena, jossa ihminen kunnioittaa ruokaa antavaa luontoa, on vanhastaan laajalti tunnettu. Sana pyytää palautuu kantasuomeen, suomen, karjalan ja viron ja muiden itämerensuomalaisten kielten yhteiseen edeltäjään. Se on lainattu myös saameen, jossa sanalla bivdit on samantyyppinen kaksoismerkitys – sekä kysyminen että riistan ja kalan pyytäminen. Myös ruotsiksi byte on 'saalis'. Byta merkitsee vaihtamista, mutta monissa murteissa myös metsästämistä ja kalastamista. Onko tämä merkitys saatu mahdollisesti idästä, Suomesta käsin? Todennäköisemmin pyytää on lainasana. Ruotsin tarjoamista merkitsevän bjuda -sanan kantamuoto, kantagermaanin *beuda on merkinnyt sekä käskemistä että tarjoamista Venäjän пытать (pytat) merkitsee sekin niin kokeilemista, koskettelua ja tavoittamista kuin kysymistä ja yrittämistä.
Perämerellä pyynti tarkoittaa sekä kalanpyydystä että aktiivista kalastamista. Kalastajat ovat pyytäjiä tai pyyntimiehiä. Kun mennään kalastamaan, mennään pyyntiin, kysymään saalista. Halutun saaliseläimen nimeä ei turhaan mainita.
In Finnish, the word pyytää, the verb from which the noun pyynti (pronounced "pewn-tih") is derived from, usually refers to asking for something or asking for help in something. The same word is also used in reference to fishing and hunting. You ask for the fish, you don't catch it or take it as in many other languages. A hunter or a fisherman is also called pyytäjä, "asker", a noun derived from the verb. The person asks or begs for fish or game. Fishing as a give-and-take relationship, in which people show respect to the providing natural world, is an old and broadly
recognised concept. The word pyytää derives from Proto-Finnic, the common ancestor of Finnish, Karelian, Estonian, and other Balto-Finnic languages. It can be found as a loanword in Sámi, too, in which the word bivdit has a similar dual meaning – both asking for something and catching fish or game.
In Swedish as well, byte means "haul". Byta means to exchange, but it also refers to hunting and fishing in many dialects. Perhaps this meaning of the word has spread from the east, from Finland? It's likely that pyytää is a loanword. The predecessor of the Swedish word for offering something bjuda, the Proto-Germanic
*beuda, had the second meaning of ordering to do something. The Russian word пытать (pytat) also refers not only to trying, touching, and reaching but also to asking and attempting. The exact loan origin of the word pyytää, is not known, however.
In the Bay of Bothnia, pyynti refers to both the fishing equipment, such as nets and fish-traps, and to the act of fishing. Fishermen are pyytäjät, those who ask for fish, or pyyntimiehet, men with fishing gear. When they go fishing, they go to pyynti, to ask (for catch). Prudently, they refrain from specifying what catch they are after.
Janne Saarikivi